Registrations have closed.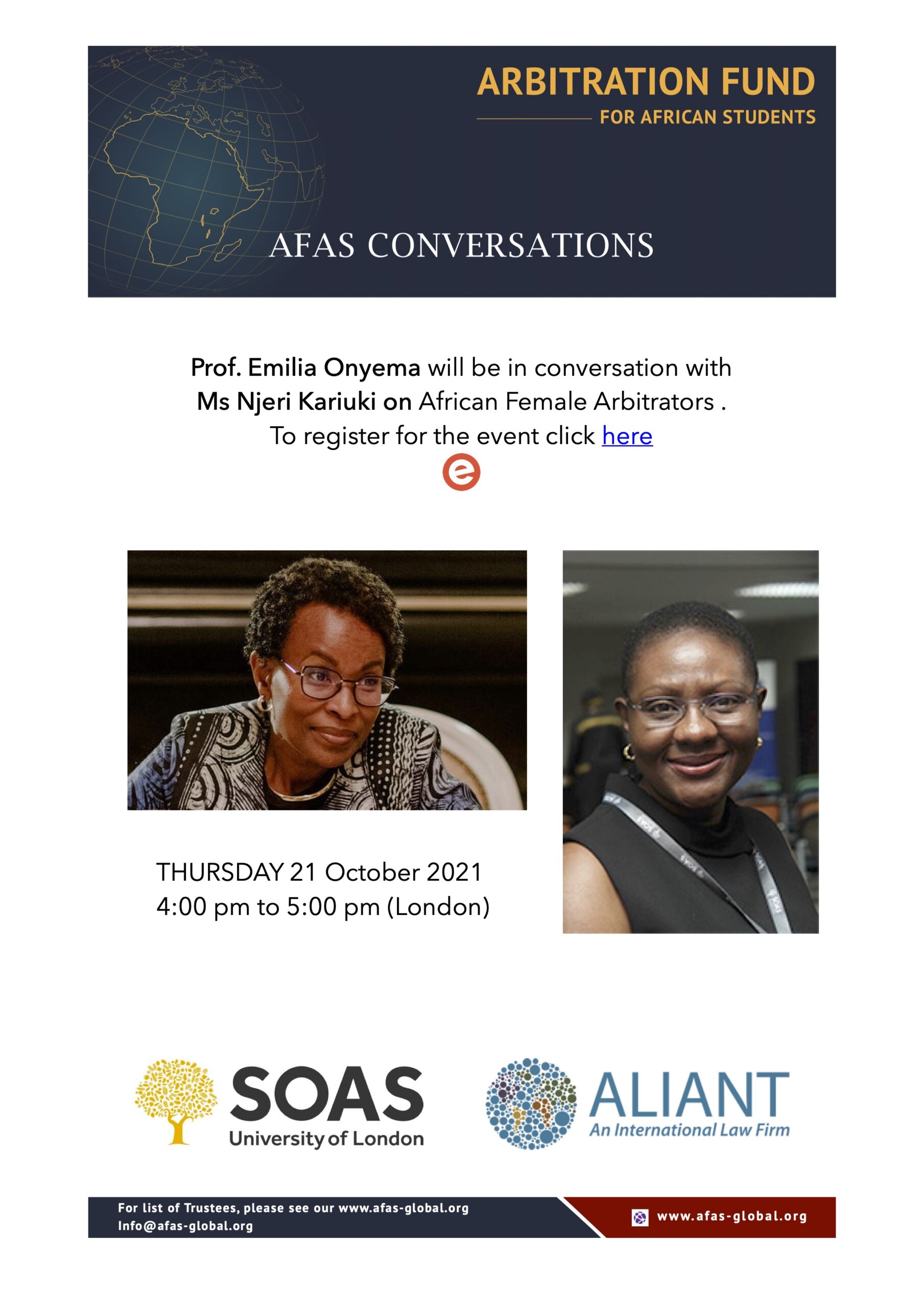 Prof. Emilia Onyema will be in conversation with 
Ms Njeri Kariuki
493
493 people viewed this event.
Summary of the conversation
On 21 October 2021 Professor Emilia Onyema was in Conversation with Ms Njeri Kariuki. Their Conversation focused on the role of African Women in International Arbitration.
Ms Kariuki started the Conversation with a brief description of her background in law. She studied law in Canada, went back to Kenya to practice in a law firm. She was introduced to arbitration fortuitously: when her senior colleague could not attend the introductory course of the Chartered Institute of Arbitrators, and she was asked to attend. This started a 'love affair' with alternative dispute resolution processes of mediation and arbitration. She went through the CIArb training and became a Fellow and later, a Chartered Arbitrator. She very much enjoys her arbitration practice and currently sits primarily as arbitrator (and no longer acts as counsel). She noted that she had male mentors who encouraged her and that the opportunities now open to younger colleagues to engage with international arbitration just were not there at her own time. She encouraged our younger African women to take advantage of these opportunities (participation in young members groups and mentorships).
As an African woman who practice is based in Africa (Kenya) she noted that in her view, Africans in the global North had greater access as it relates to international arbitration. She however, believes that the field is opening up and will continue to provide qualified and skilled African women with greater opportunities to engage. She noted that we all need to be more innovative (drawing example from the work of the African Arbitration Academy Virtual hearing protocol available at: https://www.africaarbitrationacademy.org/protocol-virtual-hearings/); and very importantly, stay the course and go the distance. She noted that consistency and continuous professional development are both indispensable to succeeding in arbitration; but for this, we need passion for the job.
Njeri continues to act as mentor to many young Africans and is a Board member of the African Arbitration Association (https://afaa.ngo/).
AFAS is very grateful to Ms Kariuki for sharing her journey and learning in arbitration and mediation with us.
Prof Emilia Onyema (AFAS & SOAS) in Conversation with Ms Njeri Kariuki (NKA Law, Nairobi). The discussion will focus on African females in arbitration.