28 April: Dr Gaston Kenfack Doujani, International Arbitrator [in French with English translation]
502
502 people viewed this event.
Gaston KENFACK DOUAJNI est un Magistrat diplômé de l'Ecole Nationale d'Administration et de la Magistrature, actuellement Directeur de la Législation au Ministère de la Justice du Cameroun. Docteur en droit international économique de l'Université de Paris I (Panthéon-Sorbonne, France), il est aussi titulaire d'un Certificat en négociations commerciales et règlement des différends commerciaux obtenu à la Kennedy School of Government de l'Université de Harvard aux Etats Unis, ainsi que d'une Habilitation à Diriger les Recherches (HDR) de l'Université de Pau (France). Directeur de la Revue camerounaise de l'arbitrage, Gaston KENFACK DOUAJNI est également Président de l'Association pour la Promotion de l'Arbitrage en Afrique (APAA), est inscrit sur la liste des arbitres et conciliateurs du CIRDI, sur la liste des arbitres de la Cour Commune de Justice et d'Arbitrage de l'OHADA et membre de la Cour Permanente d'Arbitrage (CPA).
En outre, Gaston KENFACK DOUAJNI est membre du Conseil d'administration du Centre Régional d'Arbitrage Commercial International du Caire (CRCICA) et de la Fédération internationale des Centres et Associations Internationaux d'Arbitrage
Président de la 49e Session de la Commission des Nations Unies pour le Droit Commercial International (CNUDCI) et ancien Président du Conseil d'Administration de la Facilité Africaine de Soutien Juridique (FASJ), Monsieur Gaston KENFACK DOUAJNI enseigne le droit des affaires dans différentes universités (en Afrique et en Europe).
Gaston KENFACK DOUAJNI a plusieurs fois siégé comme médiateur notamment médiateur ad hoc, interne et international. Il est aussi arbitre et siège comme arbitre unique, co-arbitre ou Président de tribunal arbitral dans les arbitrages CCI, CCJA, CPAM, CACI, CIRDI ainsi que dans les arbitrages ad hoc.
******************************************************************************************************************************
Gaston KENFACK DOUAJNI is a Magistrate, currently the Director of Legislation at the Ministry of Justice in Cameroon; he has obtained a Doctorate of International Economic Law at the University of Paris I (Pantheon Sorbonne) in 2005, a Certificate on trade, negotiations and settlement of trade disputes at the Kennedy School of Government –Harvard University (USA) in 2004 and an Habilitation to Direct Researches at the University of Pau in France. He is the Editor of the "Revue Camerounaise de l'Arbitrage", the President of the Association for the Promotion of Arbitration in Africa (APAA), registered on the list of arbitrators and conciliators at ICSID, at the OHADA Common Court of Justice and Arbitration and Member of the Permanent Court of Arbitration (PCA).
In addition, Gaston KENFACK DOUAJNI is a member of the Board of Directors of the Cairo Regional Center for International Commercial Arbitration (CRCICA) and of the International Federation of Arbitration Centers and Associations (IFCAI).
******************************************************************************************************************************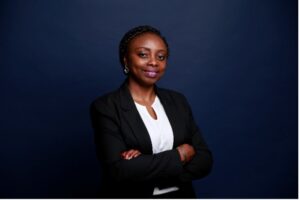 Dr Sylvie BEBOHI EBONGO is a qualified Lawyer in Paris -France and Cameroon Bars. She is the Co-founder and Partner of HBE Avocats France and Managing Partner of HBE Avocats Cameroon, a "boutique" specialized in business law https://www.hbe-avocats.com/en/
Sylvie sits as Arbitrator, acts as Counsel, and Tribunal Secretary. She is a member of many Panels of Arbitrators and is very active in the arbitration community where she holds various roles in international dispute resolution organizations and associations. Sylvie teaches and publishes articles in various topics mainly in international arbitration. Her working languages are French (native) and English. She reads and understands documents in Italian.
******************************************************************************************************************************
Summary of the Conversation
On April 28, 2022, AFAS had the privilege to receive as part of its monthly conversation series, Dr. Gaston KENFACK DOUAJNI (HDR), one of Africa's leading practitioners in arbitration and ADR. It was therefore a real privilege to listen to him on how to build a career in arbitration and ADR based on his personal experience. The event was subscribed and attended by many young and senior colleagues, practitioners of all around the world. The event was held in French with an English translation. Dr. Sylvie BEBOHI EBONGO was the interviewer.
Especially, the conversation with Dr Gaston KENFACK DOUAJNI (HDR) was initiated on two major topics:
How he started his career in arbitration: Gaston explains that his career started by a lucky chance during an internship in the Court in Paris when he had the opportunity to attend to a course on arbitration. This course was valuable from technical point of view and personal point of view. On technical issue, the courses made him curious to arbitration culture and technique. On personal aspects, the course was the occasion for him to establish contact with many arbitration specialists and practitioners and opened the doors of international arbitration. After this course, the ICC court of arbitration offered to him an internship at the ICC Secretariat in Paris. From this singular story, Gaston recommends to all those who want to build a career in international arbitration to keep two major things in mind: show interest in what you want to do, know how to seize the opportunities that arise.
How to get first appointment and to progress through the profession to gain international recognition. Gaston shared a lot of interesting majors tips: Make yourself available, working hard, assiduity, consistency and always have the desire to learn because each case is particular.
Dr Gaston KENFACK DOUAJNI (HDR) insisted also on the mentorship to build a career in International Arbitration. He pointed out the role played by many African associations such as the Association of the Promotion of Arbitration in Africa (APAA) that he chaired for many years now, and other African arbitration associations to achieve the objective of promoting the culture of arbitration in Africa and help Africans to develop a career in international arbitration and ADR.
Dr Gaston KENFACK DOUAJNI (HDR) has also drew attention on the importance of mastering and speaking several languages to develop a career in international arbitration and ADR. For senior, young colleagues, practitioners wanting to build a practice arbitration, Gaston KENFACK emphasized also on the following takeaways: Building capacities, confidence, develop a technical expertise, integrity, independence, and impartiality.
Finally Dr Gaston KENFACK DOUAJNI (HDR) stated that building careers is good, but African practitioners have to develop sincere collaboration and cooperation to exist in the field and achieve greater integration of African arbitration practitioners.