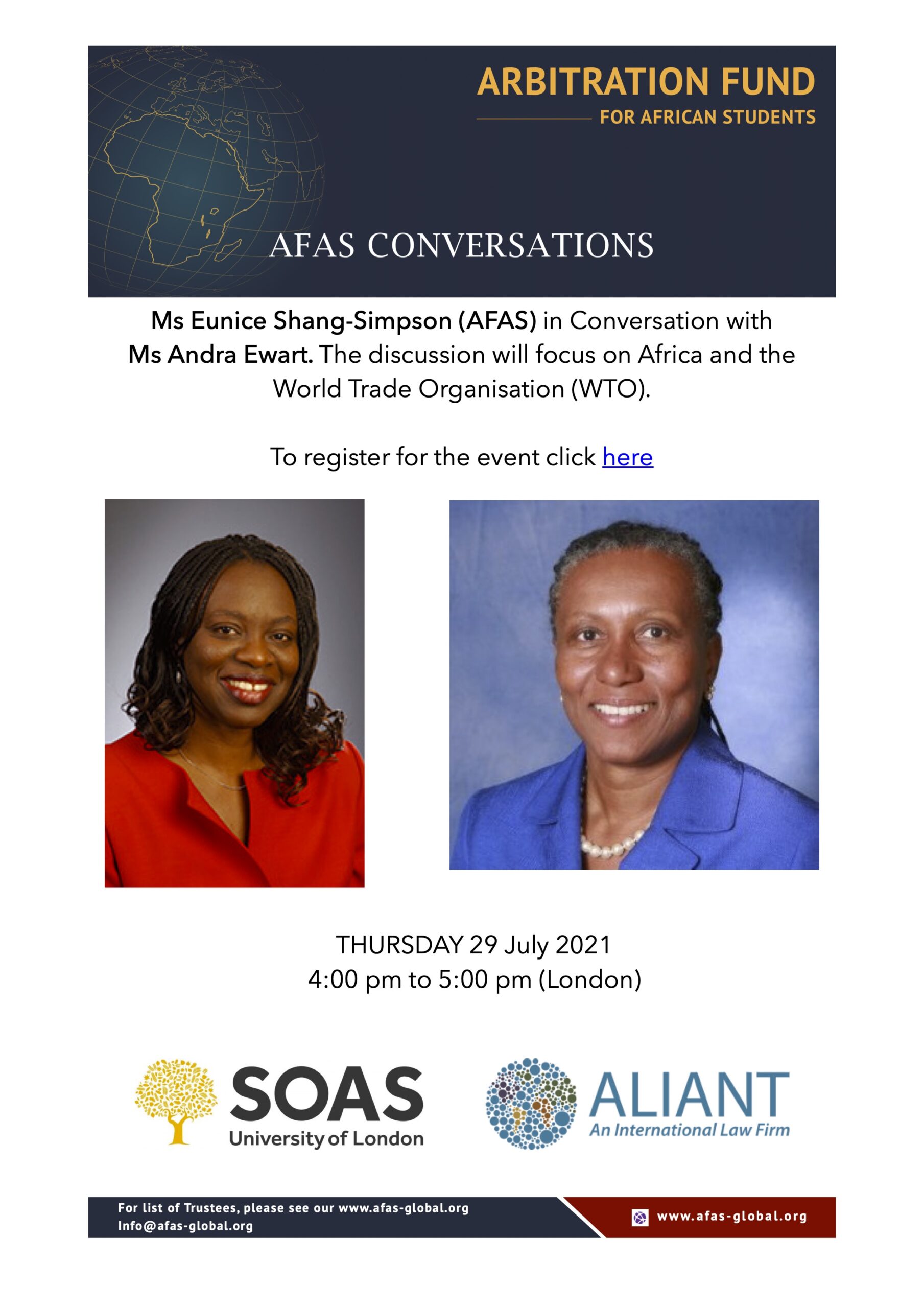 29 July: Ms Eunice Shang-Simpson will be in conversation with Ms Andrea Ewart on the WTO and Africa.
186
186 people viewed this event.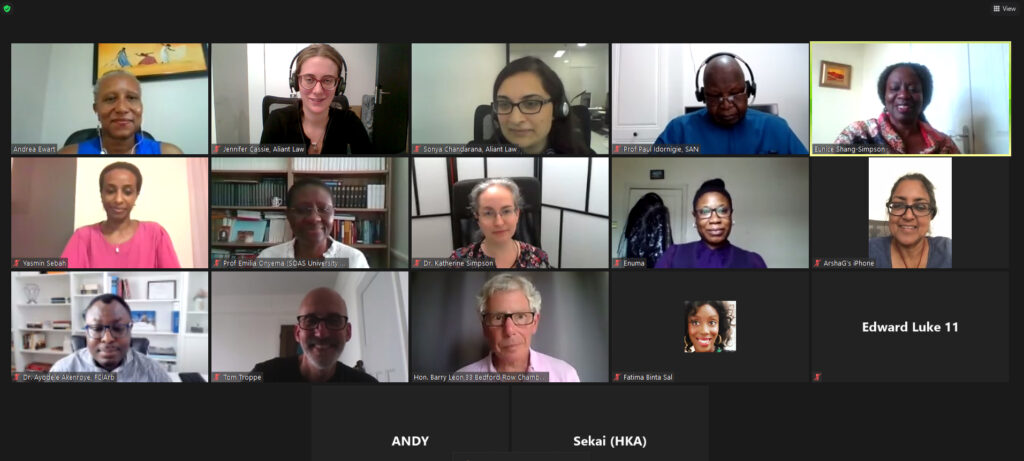 Short Report for AFAS Annual Report
The series is supported by Aliant International Law Firm; SOAS University of London, and Members of AFAS.
The fifth "Conversation" in this series took place on the 29th of July 2021 with Eunice Shang-Simpson in conversation with Andrea Ewart Esq. about her career as a Customs and Trade Attorney as well as her expertise in Trade Policy generally and in relation to Africa and the Caribbean in particular.
Andrea is the owner of DevelopTradeLaw, LLC, in Washington DC and she is also admitted to the Washington D.C., Maryland, and the Florida Bars, as well as the U.S. Supreme Court Bar.
Andrea took us on a journey from her roots in Jamaica to the University of Miami School of Law, via the Patrice Lumumba Peoples' Friendship University in Moscow, Russia, which explains how come she is conversant in Russian as well as French. She also gave us an insight into how the desire to contribute to social change whilst she was working with programs that supported professionals in the former Soviet Union in her previous career, attracted her to Law and the rest, as they say, is history.
She gave us an introduction to the WTO, explaining WTO's Dispute Settlement Mechanism, including its Special & Differential Treatment provisions for developing countries, and why, in her view the WTO is important to Africa. She also shone a light upon the power disparities and resource barriers that developing countries continue to face within the WTO, ending with a message of hope that the appointment of Ngozi Okonjo-Iweala as the Director General of the WTO, may well signal a new and inclusive direction for the WTO and its interaction with developing States.
Andrea is also an accomplished speaker and writer and we spoke briefly about her latest book, Practical Tips for Global Traders, and in particular, the fascinating chapter on "the Global Economy in 2030 for Developing Countries" where she sets out a road-map showing how Benjy, Asa or Jose could become Head of their own Multinational Corporation from humble beginnings in Jamaica, Nigeria or Columbia!!
This very informative and insightful Conversation was well attended by new and old friends of AFAS as well as colleagues from around the world, and we are very grateful to Andrea for joining us in this session in spite of the time difference.
This AFAS in Conversation Series is supported by Aliant International Law Firm